The unique exhibition-museum of Klitschko brothers' achievements opened in Kyiv.
The opening of the exhibition-museum of Klitschko brothers' achievements took place in the heart of Ukrainian sports stadium "Olympiyskiy" on June 1. The curator of the project is the official fan club of Klitschko brothers.
"The fan club has been in existence for more than three years. When we created it, we did not expect to reach that repute", said Sergey Alekseev, president of the fan club. – Nowadays we enjoy a multi-million army of supporters of Klitschko brothers around the world. The idea of ​​creating the museum appeared a year ago, and was supported by Vitali and Wladimir. We began to collect the exhibits, and I remember Wladimir to have brought them in a sports bag, we ourselves paid a visit to Vitali and took everything we could. We also searched for crumbs in various managers - so emerged this museum".
Michael Jasynskyi acts as the visualizer and the project manager. "We have departed from the tradition of usual museum exhibitions, where one can cast a look at the exhibits and listen to the story, and we decided to organize a true show in which the audience was invited to plunge into the unique atmosphere of the room, where the boxing fight takes place", he said about the idea." – "This is an opportunity here and now to get to the combat to survive every minute with Klitschko brothers".
Star guests were interested in such promises, namely supporters of Vitali and Wladimir and media representatives, gathered under the warm summer sun on the terrace to behold the multimedia show in a friendly atmosphere, created specifically for the museum by German experts based on materials of the renowned creator of sports movies Sergey Dolbilov, and to pore over the unique exhibits including championship belts, awards, posters, boxing gloves of our champions.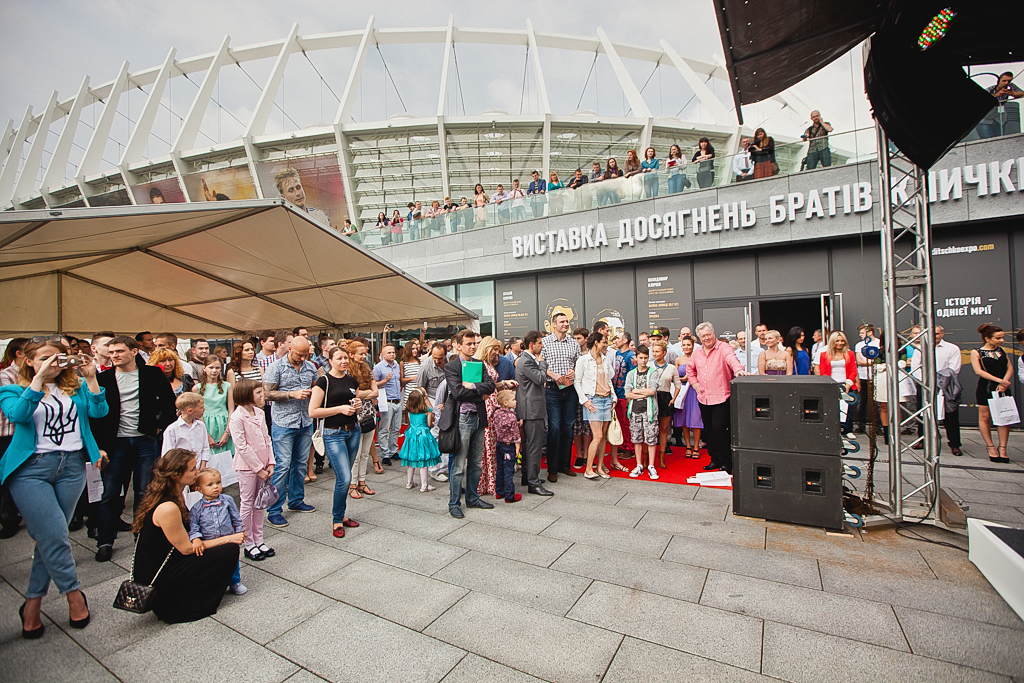 But perhaps the most touching moment on the feast was when Klitschko brothers walked on the red carpet accompanied by small charity boys of the boarding school. Vitali and Wladimir escorted children to the room to watch the show and exhibition with them and deal out gifts. Children had hardly left the room when they started to pore over the contents of the packages they were presented in the name of champions – children were extremely happy and joyful to see that among other things they were given a pair of boxing gloves as a gift!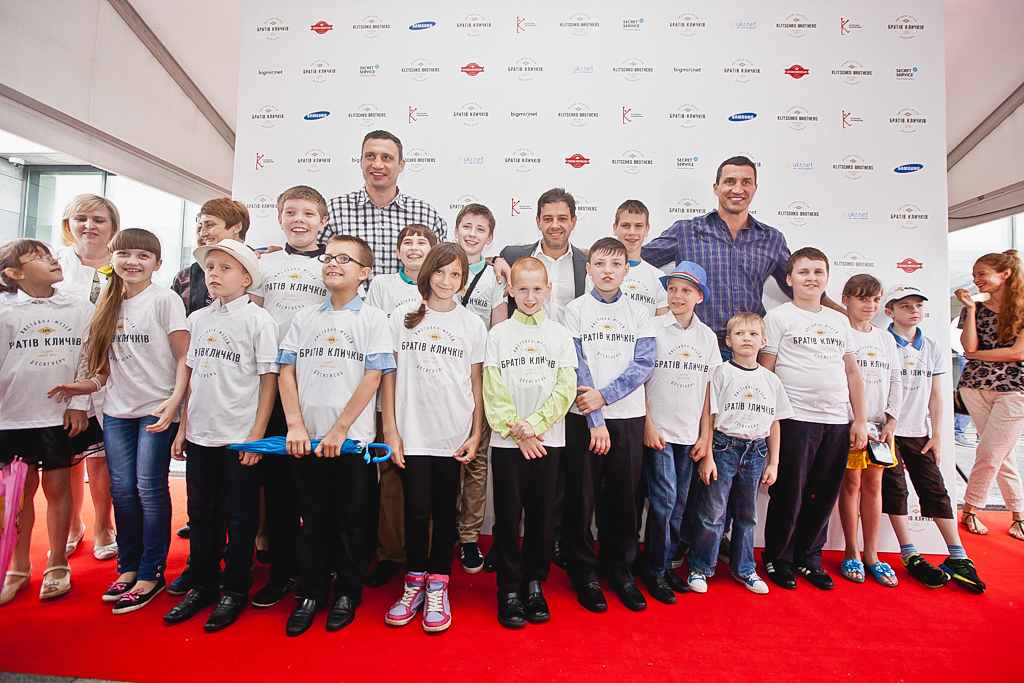 Another surprise, but now for Klitschko brothers themselves, was the performance of a rock band that sang a cover of the famous song that accompanied Vitali's entering the ring to defend his championship belt.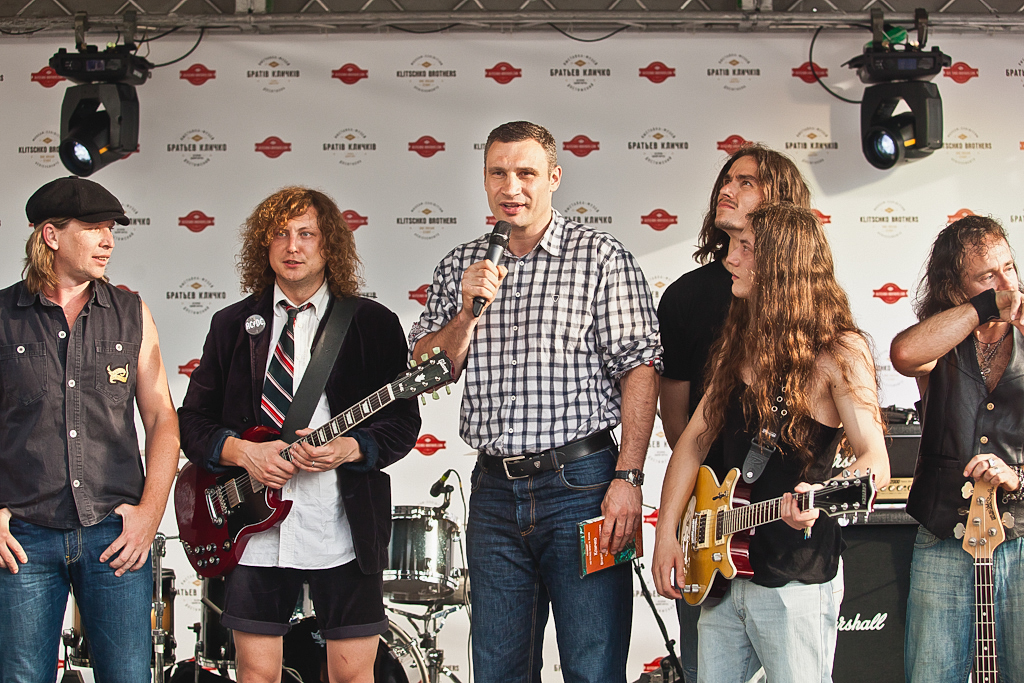 "When the president of the fan club referred to us and suggested such an idea, we supported it at once. Thus our trophies can be seen not only by close relatives, but also by all those who wish, said Vitali Klitschko. – It is particularly important that teenagers who are interested in a path to win, to the top can cast a look at all this. I hope that this museum will be a good motivation for children to visit sports sections, set themselves high aims and objectives to achieve success. Because sports has no boundaries, it offers great opportunities, it revealed such opportunities personally to me and Wladimir, and I am sure that everyone who will get engaged in sports will profit not only in terms of health, skills, ability to set goals and achieve them, but much more. As Nelson Mandela put it: "Sports has the power to change the world." And everyone who came today, may themselves be convinced through exhibits and interactive show, examples of what are not known to me. I by myself was curious to see, you can not even imagine how much. And my family was surprised – I did not tell them to the utmost, I only did it in the morning: "Gather, here is the opening of an exhibition museum to honor me and Wladimir."
"I also saw the show for the first time today and was impressed with how professionally and in keeping with the European standards it was done", added Wladimir Klitschko. – I think that even the Europeans would be envious what we have here in Ukraine. We will for sure invite all our friends from abroad to Kyiv. And I totally agree with Vitali, that every teenager should come and see the exhibition – as a child I saw myself the exhibitions of outstanding athletes to have strength to follow my dream. I am glad that we were able to share our trophies and I hope that soon this "Olympiyskiy" hall will become not only an exhibition museum of Klitschko brothers, but also a sports center in its entirety. I have already suggested Sergey Bubka today to transfer the exhibits. Because we have many outstanding athletes, namely Sergei Bubka, Andriy Shevchenko, Serhiy Rebrov, Yana Klochkova, and many others who deserve respect. I am sure when they will be able to share their trophies, then we will have something we will be proud of, and we will have a clear example for imitation."
Vitali's wife, children and Wladimir's bride also attended the party to share this solemn moment with their close ones.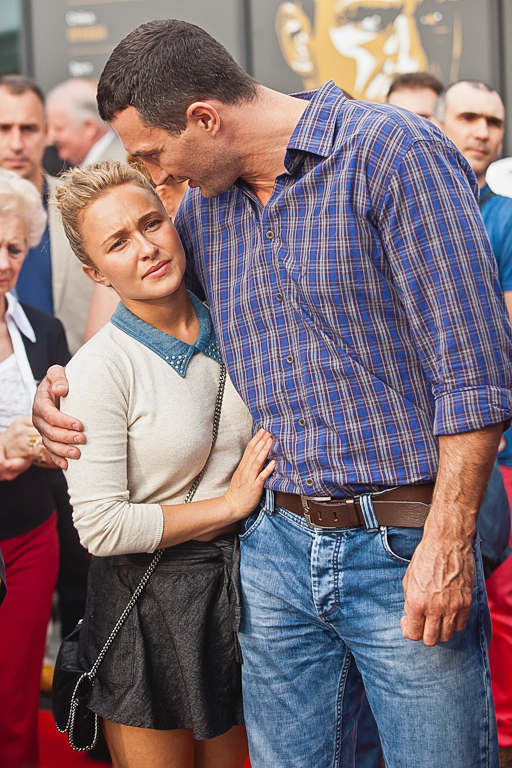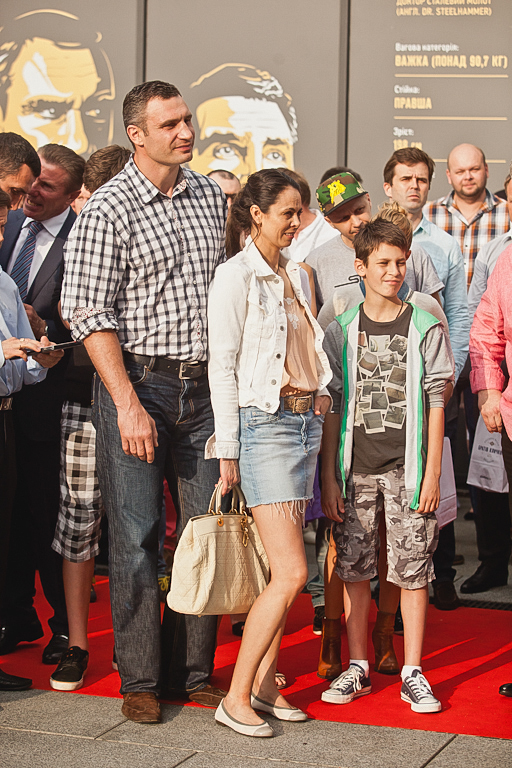 In general, Vitali and Wladimir Klitschko transferred about 70 of their unique vintage exhibits. Among them are the symbols of professional boxing, namely championship belts, robes, boxing trunks, medals, cups and other distinguished trophies. Vitali Klitschko even gave the museum his star of Hero of Ukraine and the Order of State.
Visitors of the museum also expect an ultramodern multimedia show, which will allow everyone to feel the gamma of emotions and the atmosphere that prevails in combats of legendary Ukrainian champions – Klitschko brothers.
Thanks to creation of the museum, the fan club plans to implement a number of other social projects, including charity fund of Klitschko brothers, with which the fan club has been cooperating for the recent years. These projects will primarily all tailored to work with teenagers - to promote youth sports and healthy lifestyle.
By the way, the exhibition will be free for all visitors in June, July and August, and for children up to 12 years - all the time. Thus, during a year the stationary exhibition of Klitschko brothers' achievements will be free for about 15 000 school students.
BACKGROUND ABOUT THE OFFICIAL FAN CLUB OF KLITSCHKO BROTHERS
Public organization "Official Fan Club of Klitschko Brothers" was established in December 2011. Fan club members are 25 236 fans of boxing talent of Vitali and Wladimir from 26 countries. Honorary members of the fan club - Sting, Franz Beckenbauer , Lewis Hamilton , American actress Hayden Panettiere, coach of "Dynamo" Sergei Rebrov, coach of "Dnipro" Myron Markevich, Ukrainian National Football Team players Andriy Yarmolenko, Marko Devic and many others.
FAN CLUB TEAM:
SERGEY ALEKSEEV - President
MICHAEL JASYNSKYI- Project Manager
SERGEY NAIDA - Director
MAXIM ROZENKO and MYKOLA FEDORENKO - press service
WWW.KLITSCHKO-BROTHERS.COM - official web page of the Fan Club