Klitschko brothers contributed to the museum their championship belts
Vitali and Wladimir Klitschko contributed to the museum of Klitschko brothers' achievements their seven championship belts. Now all visitors of an exhibition with its ceremonial opening to be held on June 1, will be able to see the WBC championship belt (World Boxing Council), which was held by Vitali Klitschko in 2004 and 2008 through 2014.
This prestigious trophy has been up for grabs since 1963, and its appearance changed five times. It is made of green leather with gilded medal in the middle, which is made by special order in Mexico. The belt is encircled by 161 flags of organization members, with 12 flags of countries founders of WBC in the middle. On the sides of the belt are pictures of legendary champions Muhammad Ali and Joe Louis, next to which a heavyweight variant featured pictures of Vitali Klitschko over the last few years.
Curator of the exhibition museum is the official fan club of Klitschko brothers.
«Vitali won WBC championship belt on April 24, 2004 in the battle against South-African Corrie Sanders, - reminded the President of fan-club Sergey Alekseev. - Combat took place in Staples Center arena in Los Angeles. Vitali defeated Sanders by TKO in the eighth round and won the title of WBC world champion. Combat was held under the slogan "Let the next era begin". WBC champion title became vacant after Lennox Lewis's retirement from boxing. Legendary British attended this combat and after it he even headed to the locker room to congratulate Vitali on a brilliant victory. Ukrainian's advantage in this combat was overwhelming - he struck an opponent 230 punches, while Sanders responded with only 51 strikes. 17,320 fans visited the combat and millions of fans followed it on TV, and after this victory unanimously acknowledged Vitali Klitschko the king of heavyweight division. Now this honorary trophy is one of the most significant in professional boxing, and will take its place in our museum of achievements Klitschko brothers. Its worth mentioning that our museum will be universal and we are planning to hold here various events, presentations and thematic exhibitions».
Which championship belts were handed to the museum by Wladimir, will be told later. Besides visiting the museum, the absolute world champion also watched the movie, which is part of a multimedia show. «I liked it» - so concisely Wladimir made it about the movie after watching.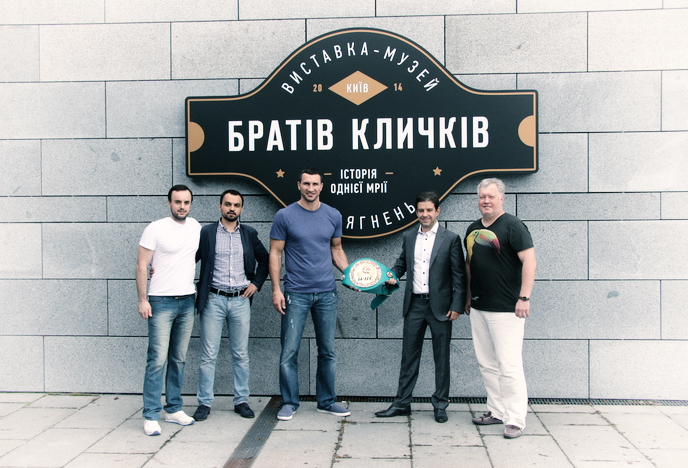 At the picture (left to right) Director of the fan-club Sergii Naida, project director of museum exhibition Michael Jasinski, Wladimir Klitschko, the president of the fan club Sergei Alekseev and director of the movie "The History of a Dream" Sergei Dolbilov.
Fan-club of Klitschko brothers invites media representatives to visit the opening ceremony of the exhibition museum in honor of the legendary Ukrainian athletes. The exhibition will show not only the trophies collected by many fans around the globe, but also the unique ones that were specifically and personally handed by Vitali and Wladimir. Here you can also plunge into the atmosphere of athletic triumph and relive the greatest moments of their careers together with our legendary champions.
The event will feature an exclusive multimedia show directed by Ukrainian directors.
Organizers will tell you about special social programs for pupils and students which will be held to promote youth sports and healthy lifestyle.
Address: 55, Bolshaya Vasylkovskaya Str., (entrance "Zapad 4")
Accreditation:
Aleksander Samilo,
+38 (093) 401 67 52,